Testimonials
Here's what some of my
successful students have
to say about drive2
Probably the best time in a driving instructors life is when a student passes their test and then they give testimonials on how good the teaching was for them.
It's a really exciting time...for the student and for the instructor.
For the student it's the reward for many hours of hard work studying and practising to reach the high standard required by the driving examiner.
And for the instructor...it's the satisfaction of seeing their student reach their goal and qualify as a safe and confident driver.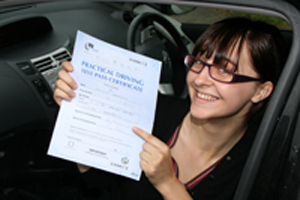 Please see below a small selection of testimonials drive2 has received from happy pupils.
Testimonials
I recommend Stuart, as he makes the lessons fun and enjoyable and makes you feel relaxed and confident about your driving.

I can't believe that I passed 1st time with only 1 minor!

Sian Booker
Stuart is a great instructor.

Always helpful and considerate keeping things simple and making driving seem easy.

Without him I never would have passed.

Nick Lynch - Staunton
Stuart is great fun and very patient.

Thanks for giving me the confidence to pass my test.

Amy Perry
Thanks for your patience and commitment.

You've been a great help.


Alex Moorcroft
I passed first time with only 3 minors.

Stuart is a friendly, encouraging driving instructor.

Harriet Davies-Jones
I would recommend Stuart as he makes you feel very comfortable and at ease with your driving.

He is very patient and reliable with driving times.

John Peatroy
I recommend drive2 to anyone wanting to pass.

I have loved all my driving lessons...not boring at all.

My confidence has grown every time.

Rebecca Kirkham
I recommend drive2 to anyone wanting to pass.

I passed first time with Stuart.

He is a great calm instructor.

Sarah Rogers
Thanks a lot, Stuart, for everything you've done for me from start to finish.

You taught me everything I need to know to pass my test.

Lessons are extremely good, well structured and you're a great guy to learn from.

Oliver Leefe
drive2 was really good and helped me pass my test.

Thanks Stuart!

Sarah France
I passed 1st time with confidence.

Stu and drive2 helped me build up my ability and my confidence.

Michael Parker
I recommend drive2 to anyone looking to learn to drive and have fun doing so.

I wouldn't have passed my test without drive2.

Jo Doyle
I passed my test first time with 6 minor faults all thanks to Stuart from drive2.

He helped and inspired me to pass my test.

Chris Jones
Stuart is a very calm instructor.

The skills he passed on really helped me pass my test with ease.

I highly recommend him.

Kanwar Chouhan
I passed my Theory and Practical FIRST TIME with Stuart.

He is a brilliant teacher who kept me relaxed and calm.

Georgia Corbett
I was taught excellently and safely and passed first time. Very efficient!

Charlie Errington
I failed my test with another instructor and as soon as I chose drive2 the level increased immensely.

I passed second time with only 4 minors.

Mel Jones
I passed first time with drive2.

Stuart was great and helped me pass quickly.

Tom Jackson
A lot better than my previous instructor. Many of my friends have passed their test with Stu.

Lessons are always fun and enjoyable... I recommend drive2 to anyone.

Clare Harvey
Stu is an excellent teacher who relaxes pupils with his friendly manner.

He is a great driver and his teaching helped my pass first time.

Thanks Stu!

Luke Murray
Wicked Instructor!!

I couldn't have done it without him.

Samantha Beeston
I passed my test first time...thanks to drive2 and Stuart... and his friendly, fun way of teaching.

Jeremy Neal
I passed first time with 4 minors!!

Stuart always kept me calm in busy situations which really helped me.

Good Luck everyone.

Lucy Hall
Friendly and reliable...drive2 with Stu is a ticket to success.

Daniel Humphries
Thanks Stuart for helping me pass my test.

Helen Castree
I would recommend Stuart...he's the best...he got me through my test 1st time.

I had a few other instructors, but Stuart's the 1.

Daniel Bould
I'm so pleased I chose drive2 for my driving lessons.

Stuart is a very patient and friendly instructor and helped me so much to pass my test.

Vicki Evans
I passed first time...

Thanks Stuart for being such a patient teacher.

Anna Long
I'm a very nervous driver...but Stuart was so reassuring I was able to take and pass my test confidently.

Zoe Loveland
Call me now if you'd like to talk about making a booking: