Driving Lessons Shrewsbury With drive2 School Of Motoring
Our driving lessons Shrewsbury are structured in such a way to not only teach adults and teenagers driving skills to pass their theory and practical driving tests but also to focus on the unique individual requirements of each of our pupils.
We have gained a lot of experience during the many years we have provided driving lessons in the Shrewsury area working with pupils who are nervous, senior citizens, people who have poor eyesight, pupils who have a hearing impairment, etc,. So, we make it a point to always put the best interest of our pupils first by employing a patient and considerate attitude to everyone who comes to drive2 for driving lessons.
It is our aim to be flexible and to offer driving lessons to people of all ages and skill levels. A course of lessons can be structured to include as few or as many lessons as you require. During your first lessons your instructor will assess your capabilities and give you an indication of how many hours you will need to reach the DSA practical driving test standard.
Driving Lessons Shrewsbury - Successful pupil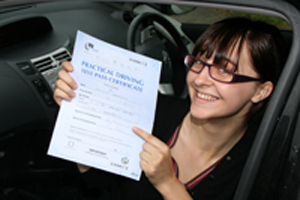 Many teenagers seek the freedom having a full driving licence can give them. drive 2 are very good at putting together further Pass Plus training designed to give you advanced driving training on motorways and major dual carriageways. These courses help you to build up your confidence and also go a long way to improving your hazard awareness and overall safety when your drive on today's busy highways.
Every driving lesson in Shrewsbury you take with us will be on a 1-to-1 basis. The key advantage to your here is your driving instructor concentrates solely on your needs during your driving lessons.
Key things you will learn include:
Vehicle Control - all of the basic and advanced driving manoeuvres
Show me Tell me - complete understanding of all of the questions and answers about your car

Theory Test - help and advice on how to pass the test

Driving Practical Test - everything you need to know to pass the test with confidence

Save Driving - hazard awareness and how to be safe on the road
Your driving lessons in Shrewsbury, Shropshire can be taken for one or two hour sessions. We find that two hour lessons are preferred by most pupils as they allow for more time behind the wheel resulting in more being covered. We do find that most pupils do tend to come on faster by taking the two hour driving lesson. Each lesson will be structured to make sure you receive maximum value for your money.
For your improved safety the car you will be learning to drive in will be fitted with dual controls for the brakes and the clutch allowing your instructor to take control of the car at any time.
drive2 aims to improve the driving standards of every pupil taking driving lessons with us. We also provide free pickup and return from you home, college or workplace making it easier for you to fit your driving lessons into your daily schedule.
Intensive Driving Courses
We work with you to make your driving lessons experience as comfortable as possible allowing you to take the time to absorb and practice all the new information you receive during each lesson. Most pupils take one two hour lesson each week resulting in them taking their practical driving test around 20 weeks from the time they started.
Some of our pupils prefer to take a faster route by following an intensive driving course designed to get them to test standard in a much shorter time. The intensive course is ideal for pupils who are short of time due to work or college schedules or for those who need to get their full licence quickly.
For pricing information about our driving lessons in Shrewsbury please click here to go to our pricing page.
Call me now if you'd like to talk about making a booking: